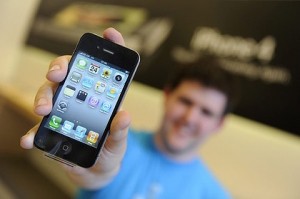 Nancy is getting the new iPhone 4 today. I'm not so excited since it won't be my phone, sniffle, sniffle. But I thought to document the whole process of getting one since AT&T is so prone to bad customer service. We have to go to the AT&T store instead of the Apple store because I get a 50% discount on accessories and will definitely have to get a case for it. And it's probably less crazy in an AT&T store instead of an Apple store as far as the kids are concerned. So here we go to Emeryville for an iPhone and some a cool Train visit for Spencer.
Update 10:39am
Out of stock! Tried the AT&T store as well but they are only take pre-orders. I broke my own rule about calling first. They recommended I call the Apple store in Downtown SF between 11:30 and 3. Weird. Going to the Emeryville Market for some Thai food.
Update 11:00
At the Amtrak station there's this bridge that you take an elevator up to. When we got in Spencer says, "Smells like poo poo daddy." This is what I call a S.K.S.E. moment – Smart Kid , Stinky Elevator.
Update 11:45